ARCPA Membership
How to Apply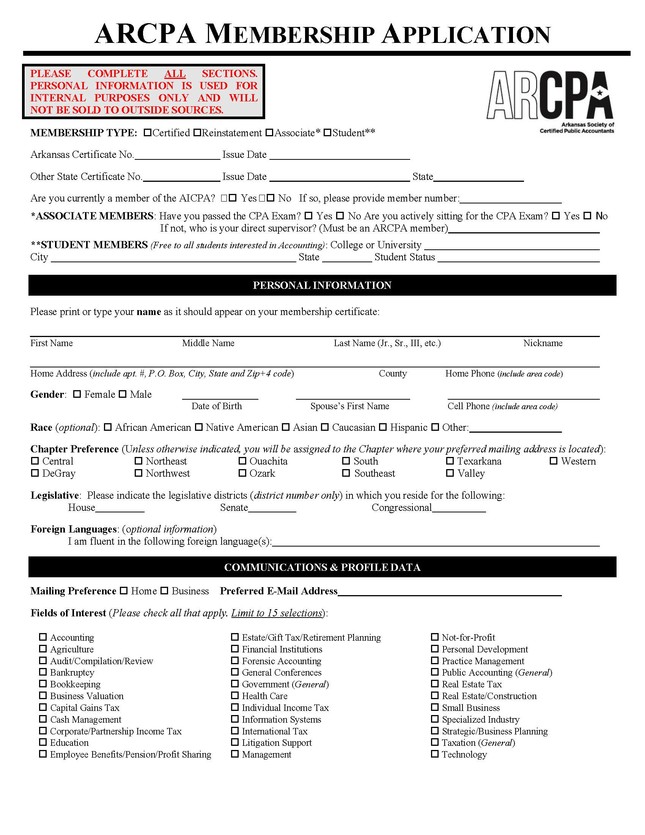 Applications for new or upgraded membership can be submitted online at https://www.arcpa.org/join, or you can download an application, here.
Downloaded applications can be returned by
Email to membership@arcpa.org
Fax to 501.664.8320
Postal mail to 11300 Executive Center Drive, Little Rock AR 72211  
Do You Qualify for Membership?
Student Members
Student membership applies to students attending a recognized College/University with an interest in the Accounting profession. Student membership status is granted at no cost and is held through graduation, after which the membership should be upgraded to the next applicable membership category. Submit a student application at https://www.arcpa.org/join.  
Associate Members
Associate membership applies to individuals who are seeking to become a licensed CPA, or who have met the requirements and are awaiting a CPA license to be issued. Applicants may qualify for associate membership if they have passed the CPA exam, but have not met the one-year experience requirement; or have graduated and are actively sitting for the CPA exam; or is a professional staff employee, engaged in an accounting capacity and directly supervised by an ARCPA member. Applications for associate membership must be sent in with a $25.00 application fee. Applications can be submitted online at https://www.arcpa.org/join. 
Certified Members
You may qualify for certified status if you are a CPA serving as an employee in public practice, partner, shareholder, individual practitioner, industry, government, commerce, legal, or educator. Applications for certified membership may be submitted with a $25.00 application fee and the applicable dues. Submit a certified application at https://www.arcpa.org/join. 
Faculty Free
Faulty free membership applies to CPA's who are serving as full-time accounting professors at Arkansas colleges or universities, who agree to participate in at least three society activities per year. Application fees and annual dues for this classification will be waived. Applications can be submitted online at https://www.arcpa.org/join. 
Get the Most Out of Your Membership
The ARCPA provides you with the tools and resources you need to be the best in your field by offering a variety of member benefits such as:
Continuing education courses and conferences at discounted rates to help you stay on top of current issues affecting your profession and keep your practice competitive
Networking opportunities where you can exchange ideas and information with other accounting professionals
Updates on legislative and regulatory issues affecting the accounting profession
Helpful resources and links for specialized industries
And more....
Learn more about how you can benefit from ARCPA membership at: https://www.arcpa.org/my-arcpa/member-benefits